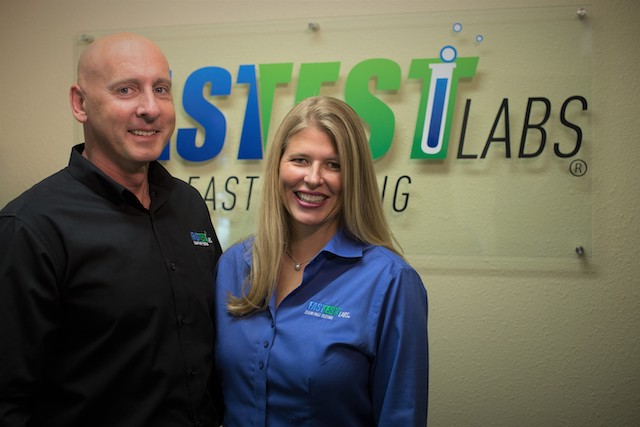 David and LeDona Claflin
In this exclusive Q&A, we get to learn more about the Fastest Labs franchise opportunity from the company's CEO, Dave Claflin.
Franchise Chatter (FC): To kick it off, can you tell us what drew you to the drug testing franchise realm?
Dave Claflin (DC): My wife LeDona and I have been in the franchise industry for decades, so it's safe to say the franchise world was always of interest to us. We started out as Merry Maids franchisees – a company we grew with for 13 years. We then became Worldwide Express franchisees, where I spent over 10 years cold-calling customers. It was through that experience that I was first introduced to the drug testing business.
The drug testing industry stood out to me because the business model didn't live or die on disposable income – clients had to utilize services regardless of the state of the economy. We decided to open Fastest Labs in 2008 where we grew the brand even amid an unprecedented economic crisis, leading the company to begin franchising in 2010. Fastest Labs now boasts nearly 60 units in 22 states, with 10 more in various stages of development.
FC: For those who don't know, can you explain what Fastest Labs is?
DC: Fastest Labs is the leading drug testing franchise specializing in drug, alcohol and DNA testing services for private individuals and corporate America. We offer the following services:
Rapid Urine Screening
Hair Testing
Fingernail Testing
Saliva Testing
Sweat Patch Testing
DNA Paternity Testing
Background Checks
Drug & Alcohol Program Management
Additionally, we don't conduct any blood testing – only urine, hair, saliva, DNA and fingernail testing. Each location is committed to seeing individuals within five minutes of their arrival with no appointment necessary, as Fastest Labs' proprietary technology eliminates the need for paperwork. With our advanced system, test results are uploaded into an individual's client portal within seconds of testing.
FC: What are the most notable qualities of a Fastest Labs location?
DC: Fastest Labs has four main qualities we love to tout:
Affordable Pricing
Clean Facilities
Proprietary Technology/Automated Testing
Our "X Factor"
Our "X Factor" is named as such because we can test customers within five minutes of their arrival, with no appointment necessary – almost eliminating the concept of a waiting room. At Fastest Labs, we don't make people wait 2-3 days for results, and their results are sent through our proprietary tablet software.
Our technology has minimized the need for customers to fill out paperwork. When they arrive, customers can check-in by simply scanning their driver's license on the tablet, which the system runs. The process has been streamlined to address the needed tests, present results within a client portal (which is encrypted with a password) and email them to the company/client. For franchise partners, this streamlines the business operations, heightens safety and offers a paperless, green work environment.
FC: Describe the customer experience and why the motto "It is our pleasure to serve" is so important.
DC: The motto is wildly important to me as a CEO and leader of a company, but also outside of the office and in my personal life. We pride ourselves on giving customers a friendly and memorable experience. We want customers to feel safe during a process that might be stressful for them. To make them feel more comfortable, we've created a welcoming experience from start to finish.
Upon arrival, they're greeted with a smile by our friendly staff members and are offered cold water to ease their nerves. Once they check-in, we assess their needs and reason for testing. We walk the donor through the drug testing process, step by step. We usually get people tested and out the door within 5-to-10 minutes.
In today's competitive marketplace, our clients do have other options available, we view each interaction as an opportunity that we "Get" to serve them. We feel it is important to show our clients that it truly is a pleasure to work both with and for them.
FC: Why did you decide not to conduct COVID-19 testing?
DC: We've found that small businesses and individuals are looking for testing sites that minimize the risk of COVID-19 exposure. As a non-medical franchise, Fastest Labs has carved a niche in the industry through our decision not to act as a COVID testing site. In short: we opted to stay in our lane and let the health experts handle COVID-19 testing in order to keep our customers and franchisees safe.
FC: What key differentiators set the brand apart from competitors?
DC: Along with the four differentiators I previously mentioned, the training and support we offer our franchisees also set us apart from competitors.
Our leadership team brings decades of experience in the franchising and drug testing industry. At Fastest Labs, we offer unmatched support for our franchisees so they can be fully prepared and well-equipped to own their own personal testing business. We offer:
Outstanding, reliable leadership
Established partnerships with vendors
Sound business strategies
Comprehensive training
Proven marketing techniques
Complete ongoing support
Cutting-edge technology
FC: Why is Fastest Labs the ideal franchise opportunity for potential franchisees?
DC: Our brand is an ideal franchise opportunity because our building and equipment requirements are smaller and more cost-effective than other medical campuses due to the fact that we're a non-medical franchise. The Fastest Labs franchise opportunity allows potential franchisees to provide superior service in a sector that already has a high demand. We have a low initial investment and offer a simple-to-operate, turnkey system, low operating costs and high margins. No medical experience is necessary to become a franchisee and our work in the B2B space creates a reoccurring revenue stream for owners.
FC: What qualities do you look for in potential franchisees? How do you want their passion to complement the brand?
DC: We are looking to build our business through strategic, service-driven partnerships in the coming year. What that looks like in terms of a franchisee is simple: someone interested in being a full-time owner-operator – who is not afraid to be hands-on by administering tests, and later attend and network at a community event to find new business. Those with a sales and marketing background – strong networkers who are customer-service oriented – will thrive with Fastest Labs.
That said, we don't require previous experience in the testing or medical industry. We are looking to grow fast, but stay smart and true to our ideal franchise partner. I personally speak with everyone who is interested in the Fastest Labs brand and look forward to answering any and all questions. As we ramp up growth this year, we hope to break into new markets and reach 100 locations.
FC: What is the typical investment to open a Fastest Labs franchise?
DC: The cost of opening a Fastest Labs franchise – franchise fee, plus overall investment costs – can range from $83,309 to $96,650; however, this investment will vary depending on the market and other factors. Since we are a non-medical testing service, we don't need the typical medical machines you might see at a hospital or associate with a senior care franchise, therefore we have relatively low overhead.
FC: How can someone learn more about franchise opportunities with Fastest Labs?
DC: We're always looking for passionate, entrepreneurial people to join our franchise family. Anyone interested in investing in Fastest Labs can learn more about our franchise opportunity by visiting: fastestlabs.com/own-a-franchise