In the post-pandemic business world, employees may need a little extra support from their employers as they adjust to hybrid or fully in-person work.
By: Nicole Fallon, Contributor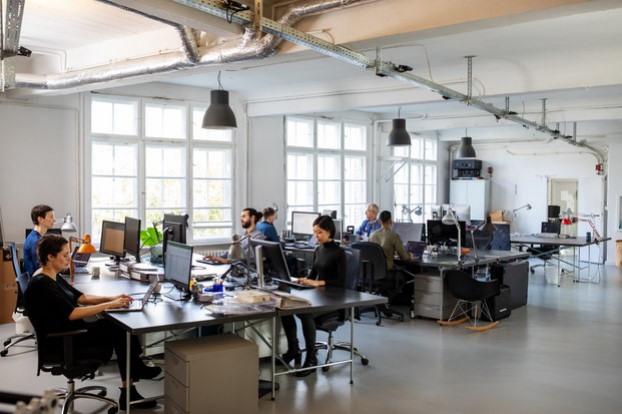 In-person work won't be exactly the way it was pre-pandemic, and employers should think about how to best support their workers through the challenges of this transitional period. — Getty Images/alvarez
With U.S. vaccination efforts fully underway, many companies that went remote during the COVID-19 pandemic are making a full or partial return to the physical office.
Understandably, employees and their leaders may be feeling nervous or overwhelmed. Things won't be exactly the way they were pre-pandemic, and employers will need to think about how to best support their workers through the challenges of this unusual transitional period.
"The biggest challenge remains fear — fear of the unknown, and how the changes that have occurred in the aftermath have affected the work landscape," said Jeffrey Ditzell, D.O., a New York-based psychiatrist. "People have become accustomed to working remotely. Most feel disconnected from their teams and there is little understanding as to the overall wellness of their colleagues. People have lost the workplace feeling for friendship or camaraderie."
Mary Alice Vuicic, chief people officer at Thomson Reuters, agreed, adding that employers must be sensitive to the personal health impact the pandemic has had on their teams.
"The health effects of the COVID-19 pandemic have extended far beyond the walls of the world's hospitals," Vuicic told CO—. "A combination of increased stress, more sedentary lifestyle and lack of social interaction over the last year has resulted in 4 in 10 adults reporting symptoms of anxiety or depressive disorder, a surge in alcohol and tobacco use, problems sleeping and undesired weight changes among a 61% majority of us. These results echo … own surveys on the well-being of our employees at Thomson Reuters, [which] found that anxiety has been one of the top-cited emotions over the past year."
Here are five key actions your business can take to support its employees as they overcome these challenges and adjust to hybrid or full-time in-person work.
Make the in-office experience and remote experience equitable
In a hybrid work environment, employers will need to be more purposeful and intentional about when and why they want employees in the office.
"It's not just to sit at a desk for eight hours," said Scott Kirsner, CEO and co-founder of Innovation Leader. "Are there specific events people are coming in for? Collaboration within or across teams? It shouldn't just be, 'We want to see your face three days a week.'"
On the flip side, Kirsner recommended dedicating a part of your HR resources to creating a remote work experience that mirrors the in-office experience.
"[Some] human resources team members [should be] ... focusing on employees who will be full-time or mostly remote," he said. "Are those people meeting other colleagues? Do they have the same access to company programs and resources?"
Invest in employee wellness programs
Employee work-life balance has always been a challenge, but the pandemic made it even more unsteady. Some pandemic-inspired adjustments in employee wellness programs are worth keeping.
For example, designated "mental health" time highlights the importance that emotional well-being has on a healthy work environment. Providing wellness-themed workshops gives employees tools to recognize their own needs while building a supportive work community.
Vuicic noted that Thomson Reuters has even signed the Mindful Business Charter (MBC), which means the company is committed to creating an environment for mental and emotional wellness.
"By signing the charter, we are declaring our intent to foster an environment where everyone can speak openly and confidently about concerns they may have with their well-being ... work to remove unnecessary sources of stress [and] promote better mental health and wellbeing in the workplace," Vuicic explained.

Set clear, consistent policies about remote and hybrid work
Eric Schurenberg, CEO of Mansueto Ventures, noted that some employees may be anxious about returning to an office full of people who may or may not be vaccinated against COVID-19.
"It will be hard to abandon precautions [like social distancing and mask-wearing] and feel secure just because employers have said it's now time to return to the office," said Schurenberg. "Easing back into anything like a workplace routine will be confronting, anxiety-provoking and slow."
To that end, Schurenberg advised employers to meet their employees halfway. This may mean allowing employees to return gradually in limited numbers and being accommodating and responsive to concerns about health vulnerabilities and other personal circumstances.
"Clear, consistent policies will be crucial. Employees will feel better easing back into the office if they believe that all colleagues are covered by the same transparent set of rules," he said.
Steve Krull, CEO of Be Found Online, advised letting employees have a say in your protocols as you develop them